Howard BARKIN
Howard was the winner of the American Crossword Puzzle Tournament in 2016.
---
Sam BELLOTTO Jr.
Sam Bellotto Jr. sold his first crossword in 1979 to Eugene Maleska for the New York Times Sunday Magazine. Since then, he has published over 1,000 puzzles. Currently he is a regular contributor to the Simon & Schuster Crossword books, has weekly crosswords in "The Nantucket Independent" newspaper, "Back Stage," and contributes to all of the other major crossword puzzle markets.
Sam is also the creator of the popular crossword construction program Crossdown.
---
Ross BERESFORD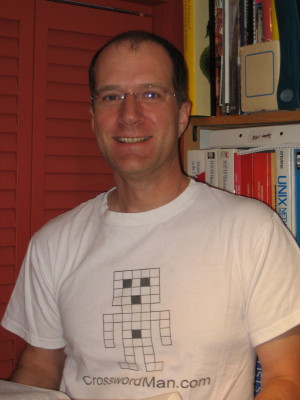 Ross Beresford was co-editor of The Listener crossword in the UK between 1994 and 2005.
Ross is the author and developer of the Tea and Sympathy software packages for crossword solving and construction.
He emigrated to the USA at the beginning of 2007 and now markets his software using the Crossword Man brand. He writes daily about his experiences as a solver of US puzzles on his blog An Englishman Solves American Crosswords.
Ross Bereford's website provides a fascinating résumé of his achievements as crossword solver, setter, editor and software developer.
---
Patrick BERRY
Patrick Berry has been creating and editing puzzles for nearly twenty years. His work has appeared in The New York Times, Harper's, The New Yorker, U.S. News & World Report, and numerous other publications. He currently edits the Chronicle of Higher Education's weekly crossword and creates variety puzzles for the Wall Street Journal's Saturday puzzle page.
He has also published several puzzle books - including Crossword Puzzle Challenges For Dummies - and recently turned his attention to designing video games.
Patrick Berry's website, A-Frame Games
New York Times crosswords by Patrick Berry at XWord Info
---
Patrick BLINDAUER
Patrick Blindauer, born on the 4th of July, 1976, is a crossword constructor and puzzle book author. Since 2005 he has had over 40 crosswords (solos or collaborations) published in the New York Times. He is also a member of the CrosSynergy syndicate.
He worked as an actor and a music director before joining Sterling Publishing, assisting Peter Gordon in publishing puzzle books. Patrick now edits over a dozen puzzle books a year.
Recently married, he lives in St. Louis, Missouri. His current writing project is Wide Screen Crosswords and he is on the writing team for the upcoming MIT Mystery Hunt.
New York Times crosswords by Patrick Blindauer at XWord Info
---
Alex BOISVERT
Alex Boisvert is a crossword constructor whose puzzles have appeared in the LA Times, NY Times, NY Sun, The Chronicle of Higher Education and GAMES magazine.
Alex Boisvert's Crosswords website
Interview with Alex Boisvert in L.A. Times Crossword Corner.
---
Zhouqin BURNIKEL
Zhouqin Burnikel grew up in Xi'An, China. She worked in Guangzhou for 6 years before moving to the US in May 2001.
In January 2008 she created the blog L.A.Times Crossword Corner. On this blog, which is specifically about the Los Angeles Times Crossword Puzzle, she uses the pseudonym "C.C." She was later joined by seven more contributors.
Zhouqin started constructing puzzles in 2010 and has had 18 puzzles published by the LA Times and one by the Crossword Club, all collaborations with Don Gagliardo.
Interview with Zhouqin Burnikel in The Record.
---